Providing Foundation Repair Long Island Locals Can Depend On
Poor drainage systems can turn even the most well-maintained homes into horrible disasters. Not only does it cause problems inside your home, but your house exterior isn't spared either.
For instance, it is highly likely for your beautiful-looking lawn to turn into a mushy mess.
If you find yourself in the same boat, do not worry. A phone call is all it takes for our Long Island foundation repair professionals to reach your site and inspect the problem.
Our skilled staff members spot the underlying causes of an improper drainage system and provide reliable solutions that last for years to come.
Common Landscape Drainage Problems
Connecting You With Foundation Repair Long Island Experts
What could be the culprit of an inadequate landscape drainage system? Here are some common reasons that might be contributing to a drainage problem.
Oftentimes, standing water in your home's foundation is causing the issue. This can cause severe damage to your home's interior. For instance, you may spot breaks in the dry wall or cracks in the wood floor. This is something that should have been watched out for during the initial construction of your home.
An improper yard grading can create tensions that trap water. This kills your plants in the long run. Besides, it leads to marshy conditions in those particular areas. Stormwater must move onto the surface to avoid this problem. Generally, this is achieved by installing creeks.
You will also experience issues if your gutter downspouts are emptying on saturated plant materials. Besides, even if the water moves on paved surfaces, you'll experience problems.
Types of Landscape Drainage Systems
You can encounter several issues because of poor drainage systems, from water-stained foundations to soil erosion and standing water below gutter spots. However, our quality solutions will help resolve the problem - regardless of its severity.

Here are the standard landscape drainage systems that Long Island Foundation Repair experts might consider.
French Drain: This solution is ideal for removing standing water that results from low-lying areas. French drains work like gutters. The only difference is that they redirect water on the ground instead of above your home. They consist of perforated pipes featuring gravel and filter fabric. Also, they appear stylish and add to your home aesthetics.
Dry Well: A dry well is a cylindrical water reservoir that allows water runoff and redirects it to the soil. The dry well's porous siding facilitates the entire drainage system. As such, the water doesn't accumulate on the ground. Instead, it moves a few feet under the ground. This method is typically used for water that is challenging to redirect – consider downspouts. However, our experts determine whether it is ideal for your lawn or not, considering weather patterns and soil composition.
Gutter Drains: Another drainage system option to consider is downspouts through the drain pipe and turning it away to a location with better drainage. Different drain termination points include a catch basin or a pop-up emitter. Besides, professionals might consider extending them to your dry well. In fact, if your home has a slight negative grade, a dry well might be the only option.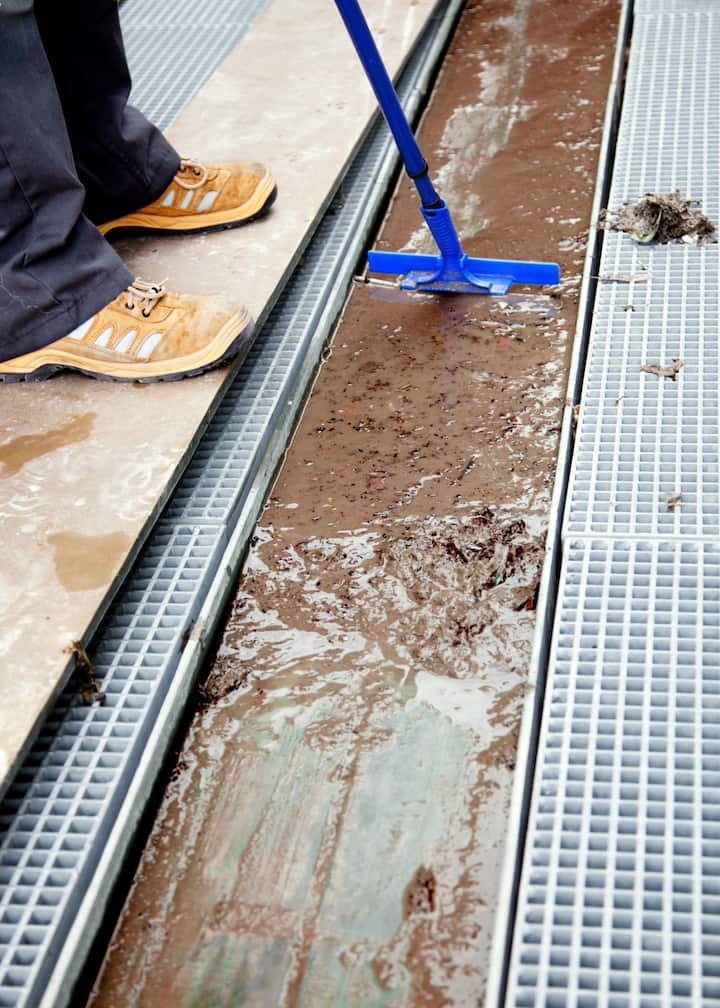 Why Proper Drainage System Matters
Partnered With Foundation Repair Long Island Locals Rely On
Your outdoor living space will be a disaster without a proper drainage system. So, if something blocks the water from moving downhill, you're in trouble.
Note that a drainage system is a vital part of any landscape design. In fact, the entire structure is incomplete without one. Yes, water is essential for a healthy landscape, but excess of everything is bad, and water is no exception.
Here's why a proper drainage system matters:
An adequate water drainage system will enhance your property's value
Without one, you might make your home vulnerable to fungus
Termites and mold growth are common problems associated with an improper drainage system
One primary reason why home drainage matters is that not having one can unstabilize your home's foundation over time
It keeps water from accumulating and also reduces the chance of soil erosion.
Years of struggle earned us a reputation as one of the top Long Island Foundation Repair Companies.
We take the most challenging projects and handle them efficiently, from landscape drainage issues to housing foundation problems, and sewer line cracks to structural damages.
Our work highlights our competency, and our services speak about our reliability. Regardless of the structural problems you encounter, reach out to us, and we'll be at your service in no time!